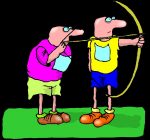 I would like to invite all recurve and compound juniors within the county who want to improve their shooting ready for next year's tournament season and County Junior Team to join me for coaching on the Junior Winter Training.  Younger juniors from the age of 9 are welcome to join.
I've now been doing this training for the last 3 winters and the County Recurve team has now won the EMAS Intercounties (The Sydney Bond) 3 times on the trot. This year I would like to invite compound juniors also to help build the County Compound Team for the future.
The training will be at Rushcliffe School, Boundary Road, West Bridgford one Saturday each month from November to February if there is a good response then possibly March also.
Times and dates yet to be confirmed.
The training is free to all Notts junior archers subject to funding from the Nottinghamshire Archery Society.
Recurve coaching will be given by Charlotte Attwood.
Compound coaching will be given by Steve Attwood.
If you are interested or would like more information please email me at : tensing.attwood@gmail.com   please mark email as Junior Training.