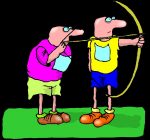 This years winter coaching sessions will again be available to all archers regardless of their ability, all that is required is a wish to improve. The coaching will consist of 5 sessions to be held at the Joseph Whitaker Sports Hall, Warsop Lane, Rainworth, Notts NG21 0AG. The times for the sessions will be 12.45p.m. to 4.00 p.m. The dates for the sessions are as follows:
8th November 2015, 13th December 2015, 17th January 2016, 21st February 2016,
and 13th March 2016
The cost for the five sessions will be £30.00 payable in advance .
In order for me to gauge numbers and allocate coaches, if you would like to be included in the sessions could you please, complete the appropriate slip below and let me have it along with your cheque for £30.00 made payable to Nottinghamshire Archery Society by the 30 October.
Please bring with you as well as your shooting equipment, note pad and pencil, any food and drink you feel you may need.  Please have a think about what areas of your shooting you wish to work on/improve and make a note of them, if you have a coach then please discuss this with them so that the coach allocated to you for these sessions will not be working at cross purposes to your coach.   If you have scores for 3 rounds you have shot please can you put them on the reply slip in order to help me allocating coaches, if you don't have scores for rounds then don't worry just include information about your longest distance shot or if you have done 252 or FITA badges how far you have progressed with them.
I can be contacted on the above numbers in case of emergency.
Best wishes
Mario Stankovic