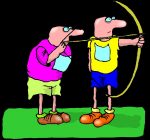 This year as part of our winter coaching sessions we are offering coaches the opportunity to improve their coaching skills by working with more experienced coaches. We will be putting on workshops focusing on basic technique flaws and how to spot and correct them, recurve bow set up and compound bow shooting styles.
These sessions will take place in the morning before the archers' winter coaching sessions and will start at 10.00 a.m. and finish at 12 noon. If you would like to attend these sessions and/or coach at the afternoon sessions which finish at 4.00 p.m. then please let me know by the 30th October. The dates for these are: 8th November 2015, 13th December 2015, 17th January 2016, 21st February 2016 and 13th March 2016.
Please feel free to bring your shooting gear with you as you will have the opportunity to shoot during these sessions.
If you have any questions please do not hesitate to contact me.
I look forward to hearing from you.
Best wishes
Mario Stankovic
Mario Stankovic
County Coaching Organiser
82 Lower Kirklington Road
Southwell
Notts
NG25 0DP
Tel: 01636 814494
Mobile: 07885 346726
Email: homeandgardens@yahoo.com